Vice President of New Business Development - Cincinnati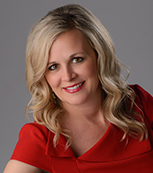 Angie Clayton joined our leadership team as the new VP of New Business Development for Cincinnati.  Angie has been in the office furniture industry for over 15 years, both on the dealer and manufacturing side.  Over the last 7 years Angie has worked throughout the State of Ohio, Kentucky and Indiana as the District Manager for Teknion.  Angie also has worked with a Herman Miller dealer, Humanscale and Siebold Baker Associates focusing on new business development and vertical markets.  She is a graduate of Bowling Green State University with a focus on Interior Design.  Angie possesses strong leadership and organizational skills and her love of teamwork will bring a great deal of energy and excitement to our LOTH AFT team.
Angie and her family reside in Hebron, Kentucky.  She is a Cincinnati Ben-Gal alumni and has been the Head Cheerleading coach for the last 12 years at Xavier University.