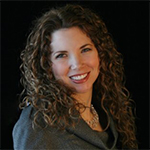 Meghan Hollan first began her career at LOTH in 2011 as the Director of Organizational Development.
She comes from over 12 years experience in progress Human Resources, Organizational Leadership, Business Development, and community engagement.
Meghan has rejoined LOTH in 2016 as the Vice President of Organizational Development. As the VP of Organizational Development, she is responsible for all of LOTH brands' Human Resources, Talent Management, Recruitment, Associate Development, community engagement, brand management and strategic planning.
Meghan has her BA in Public Relations from Northern Kentucky University and a Masters Degree in HR/Organizational Leadership from the University of Cincinnati. She also holds her Senior Professional Certificate from the society of Human Resources.
Meghan is active in multiple Universities such a UC, Xavier, Miami and OSU. She also has been a long time volunteer for Cincinnati Works, United Way and ArtsWave amongst others. She is a member of the Junior League of Cincinnati, Woman's Club of Cincinnati and held a board seat for the March of Dimes of Cincinnati.
In 2014 she was named YP All Star for Cincinnati Magazine. She has been a semi-finalist for Mentor of the Year at Xavier University.