Post NeoCon Q+A with our Architecture + Design Specialist, Ashley Wyatt
What products are you excited about sharing with your clients?
The Microsoft partnership – being a preferred vendor for the Surface Hub.

Thoughts on the new Umami and/or Series One task chair?
Thought both were strong. Umami is a good height for "working lounge". The base is thin but strong and still great for open plan environments. Steelcase has been lacking this pricepoint chair for awhile. Pumped for all the mesh colors!

Did anything stand out to you in the Designtex showroom?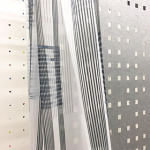 The felt, and hole punched patterns.
How would you utilize the Microsoft Products (hub, surface) in our showroom?
It needs to be integrated into everyday, casual work. It can't be something that requires a production or the "perfect scenario" meeting to utilize.

What product story stuck with you the most throughout the Steelcase/Coalesse showroom tour?
The lounge pill stools in Coalesse…BEAUTIFUL. Also the Viccarbe Imports Collection Season Bench with Season Mini stools. The height variations for lounge seating are great. For Steelcase, definitely Umami lounge and Iris!

Was there a standout product(s) from other showrooms that you liked?
The beautiful HBF stacked lounge, the entire Davis showroom, and the West Elm Modern Haus Private Workspace.