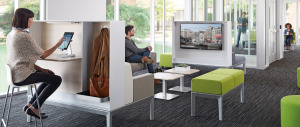 My name is Ryan Geoppinger and I am currently a Business Development Specialist. Being involved in healthcare and working to help others is a passion of mine, and this article is a reflection of LOTH's and my own thoughts on the matter.
Also, we have our first interview on Patient Experience with a local healthcare institution- our first discussion is with the VA Hospital.  We will feature several more interviews with local healthcare organizations in the coming months
Recently, Micah Solomon wrote a genius article for Forbes on how to Improve The Patient Experience By Consulting Models Outside of Healthcare. In the article, Micah suggests that we need to wake up and smell the coffee of improving healthcare from a new perspective. The real question of improving the system today is where to begin. Let's start with the big three.
We need a purpose and a function. Without a bit of organization, a hospital cannot possibly function. If systems want a successful outcome, then every aspect of the healthcare environment must be efficient. Every employee needs to know and understand their personal purpose. Success in patient health is rooted in positive patient experiences in the medical environment, but that can only occur if every department works together.
Service and hospitality must be perfected from beginning to the end. Solomon insists that the first and last things in any aspect of hospitality are remembered. In customer experience, this holds true as well. It's probably best not to pretend this isn't true. These thoughts are memories that last forever in our minds and are crucial in the hospital setting. The patient's environment and initial impression set the tone for the remainder of the patient's stay.
It is a necessity to treat the patient with respect in verbal and non-verbal capacities. More often than not, when a person walks into a hospital, they don't like what they see. Quality is immediately thrown out the door because of the poor use of language, nonverbal snubs (especially chronemics) and offsetting body language. With an uncomfortable environment, stress doesn't abate and negativity impacts other aspects of the visit. Treating patients with the respect due a guest visiting by choice changes everything throughout the patient (and family) experience and more importantly creates trust. We are still trying to change the way people and employers look at healthcare. Even in the four years since Jennifer Robison wrote What Is the "Patient Experience" healthcare has evolved. Robison couldn't be more correct when she says that nothing is going to change until hospitals take the time to realize and understand the true definition of patient experience.
In her perspective, hospitals make a great show of advertisement and marketing trying to show how they have great relationships with their patients and take the time. However, in the end it becomes only about selling medical care, not taking care of the patient. Healthcare needs to accommodate patients in every way possible.  From the second the patient walks into the hospital, they should feel the warmth of environment and those around them. Amenities are important, but an emotional connection as well as a physical connection must be made. Engaging the patient on every level from beginning to end creates a trusted setting where satisfaction increases dramatically in HCAHPS reports. Her philosophy comes down to not three, but four psychological elements: confidence, integrity, pride and passion.  Confidence "reflects" the patient trusting the hospital to deliver their promises. Integrity displays that hospitals are treating their patients fairly and will take care of the dilemma the patient has brought to them. Pride shows that patients feel good and secure in the environment they have chosen and how the hospital reflects on them. Finally there is passion, which is when the patient feels that the hospital they have chosen couldn't have been a better option and becomes a part of who they are.
Long story short, it's time to revitalize the patient experience and try something new. For example, it's probably wise to take time for your patients rather than treating them like they don't exist. It comes down to environment: making the patient feel important and tended to from the second they walk through the front door to the time they leave. A trusting patient is a loyal patient.  Steelcase just released their update on the patient experience Time For Change: New Solutions for Healthcare Places, which couldn't agree more with Solomon or Robison. Take a look to learn more http://www.steelcasehealth.com/wp-content/uploads/2014/05/Steelcase-Health-Time-for-Change-Insights-and-Applications-Guide.pdf.  
Works Cited
Robison, Jennifer. "What Is the 'Patient Experience'?" GALLUP Business Journal (September 2010). Web. 25 Jun. 2014.
Solomon, Micah. "Improve the Patient Experience by Consulting Models Outside of Healthcare." Forbes (June 2014). Web. 25 Jun. 2014.
LOCAL PERSPECTIVES ON PATIENT EXPERIENCE
LOTH Director of Healthcare Tarra Aufderheide was able to talk with Carl Higgenbotham about how the VA handles Patient Experience and his thoughts on how veterans' needs are addressed in Central Ohio.  Below is a summary transcript of our Interview with Carl Higginbotham on Patient Experience for the Chalmers P. Wylie VA Ambulatory Care Center
Q: What are the necessities to receive successful and positive feedback results for patient experience?
CH: We have a number of avenues through which our patients can give us feedback.  Our primary one is through our patient advocates.  We have three at our facility on staff at all times.  Patients can come in and talk about their experiences both positive and negative.  We also have feedback forms available throughout our facility that all go to the patient advocates.  All of these feedback mechanisms and our patient advocates report to our Facility Director.  We also get inquiries through each of the clerks in each service area that also serve as patient advocates.
Q: How important are Press Gainey scores as part of the feedback mechanism for the VA?
CH:  We do not utilize Press Gainey scores as part of our feedback process.
Q:  What metrics do you feel are most important in judging whether a patient has a positive experience with their care providers?
CH:  We have internally, within the VA, SHEP scores (which stands for Survey of Healthcare Experiences of Patients).  The VA looks at all our appointments in the past month and nationally a survey is sent out each month to a randomly selected sample of patients.  These are patients that could be in specialty care, mental health, primary care – it covers the whole gamut.  The feedback results are available by site, region, and nationally.  It is a comprehensive survey; however a lot of the questions focus on the interactions with the care provider (e.g. what type of questions did they ask, did they provide eye contact).
Q:  How do you prioritize what a patient needs while they are in your care?
CH:  We have a Relationship-Based Care experience model (RBC).  We are very patient-driven and rely on patients to self-identify what issues they want to discuss.
Q:  How important are visual aids in discussions with patients?  Also does Telemedicine play a role in this for the VA?
CH:  Telehealth is a huge component of how we deliver healthcare and every VA has telehealth as part of their model.  We service 13 counties so it is really needed.  Many of our patients are very visual.  In the ambulatory environment, how patient interaction is handled is critical.  We also have home-based care primary care where we can do telehealth in a patient's home.  We want to have face-to-face interactions and have veterans know who their caregiver is and be able relate to them.  The personal relationship is vital.  As part of our care delivery we utilize a PAC model and each veteran is assigned to a team, a Patient Aligned Care Team, composed of a provider, an RN, LPN, and a clerk (Medical Support Assistant or MSA).  It used to be a veteran would come in and may see a different doctor every time and didn't know who they were going to see.  Now a veteran knows who they will see and with those teams there are other ancillary members they will work with, a pharmacist and a mental health professional are a part of the team.  As patients are readmitted in the future, they are typically reassigned to the same PAC.
Q:  In your experience, what kinds of things make patients feel relaxed and comfortable in a hospital environment?
CH:  It is interesting as our clients are unique.  With everything you have heard lately in the media, we are finding that here in Columbus, veterans want to be seen by someone that is familiar with veterans' healthcare.  Of the 40,000 veterans we see, well over 90% of them want to be seen by the VA.  There is a relationship with veterans and we have a unique experience – other veterans come here, there is a community that they can't get anywhere else.  Over a third of our staff are veterans themselves and there is an aspect of community here that another hosptial can't replicate because of these factors.  Veterans take ownership and are very vested in and vocal about the care they receive.  We get constant feedback and this is an active community.
Veterans have a number of avenues to communicate with us – some go right to their congressional representatives, some go to veterans' services organizations (VFW, AmVets, American Legion) and each county in Ohio has a veterans' service office so we try to listen to all of these sources to provide the best experience for our patients.  The issues we are experiencing nationally has been getting in to see people, not with the care they receive.
Q:  How important is it for the patient to have a good relationship with the caregiver and what are you doing to promote interaction?
CH:  The PAC model and the RBC are two efforts that come together to care for our veterans and we are trying to make the model more proactive.  Getting them into classes about wellness and programs to raise awareness about healthy eating and exercise.  We are trying to get a paradigm shift to where veterans are living a lifestyle that is healthy and not be reactive in their health.
Q:  Emotional care can be just as important as physical care while in treatment.  What strategies, procedures or ways of working are you using to promote this holistic view of patient care?
CH:  When we look at the RBC model, for example with healthcare, we hear feedback from our veterans from these various channels and look at how we can make things better.  For example the way we have our waiting room set up, the colors on the walls (we used to have very drab colors and now we have a bright blue).  We utilize the feedback we are getting dialed down to the individual service area to improve the experience of the patient.  Those little things are some examples of things that we really take to heart here.
Q: The trend in healthcare seems to be towards the patient and their families participating in interactions with caregivers.  Are you seeing this in the VA and if so how are you dealing with this trend?
CH:  One of the things that we are doing with family members of veterans is we started a program after hours called SAFE.  We bring in the family members that are concerned about family members and we talk with them about the issues as there is still a stigma attached to mental healthcare.  We are integrating the family members into the care to educate them about PTSD or depression so they can encourage their loved ones to get into treatment.
Q:  Any initiatives, ideas, or programs you would like to share?
CH:  We are constantly evolving as an organization.  PAC is a couple years old, RBC is a couple years old.  I think people often have the view that the VA is this static organization that is entrenched and hasn't advanced in years.  We are one of the newer facilities and I think we are very progressive here in Columbus.  The Chalmers P. Wylie Ambulatory center is the fastest growing facility in our network.  There are a lot of reasons for us to continue to grow to meet the needs of our veterans and our veteran population is changing and will continue to change over the years.  It will be a constant adjustment as our core population in the past 5-10 years has changed.
Works Cited
Robison, Jennifer. "What Is the 'Patient Experience'?" GALLUP Business Journal (September 2010). Web. 25 Jun. 2014.
Solomon, Micah. "Improve the Patient Experience by Consulting Models Outside of Healthcare." Forbes (June 2014). Web. 25 Jun. 2014.