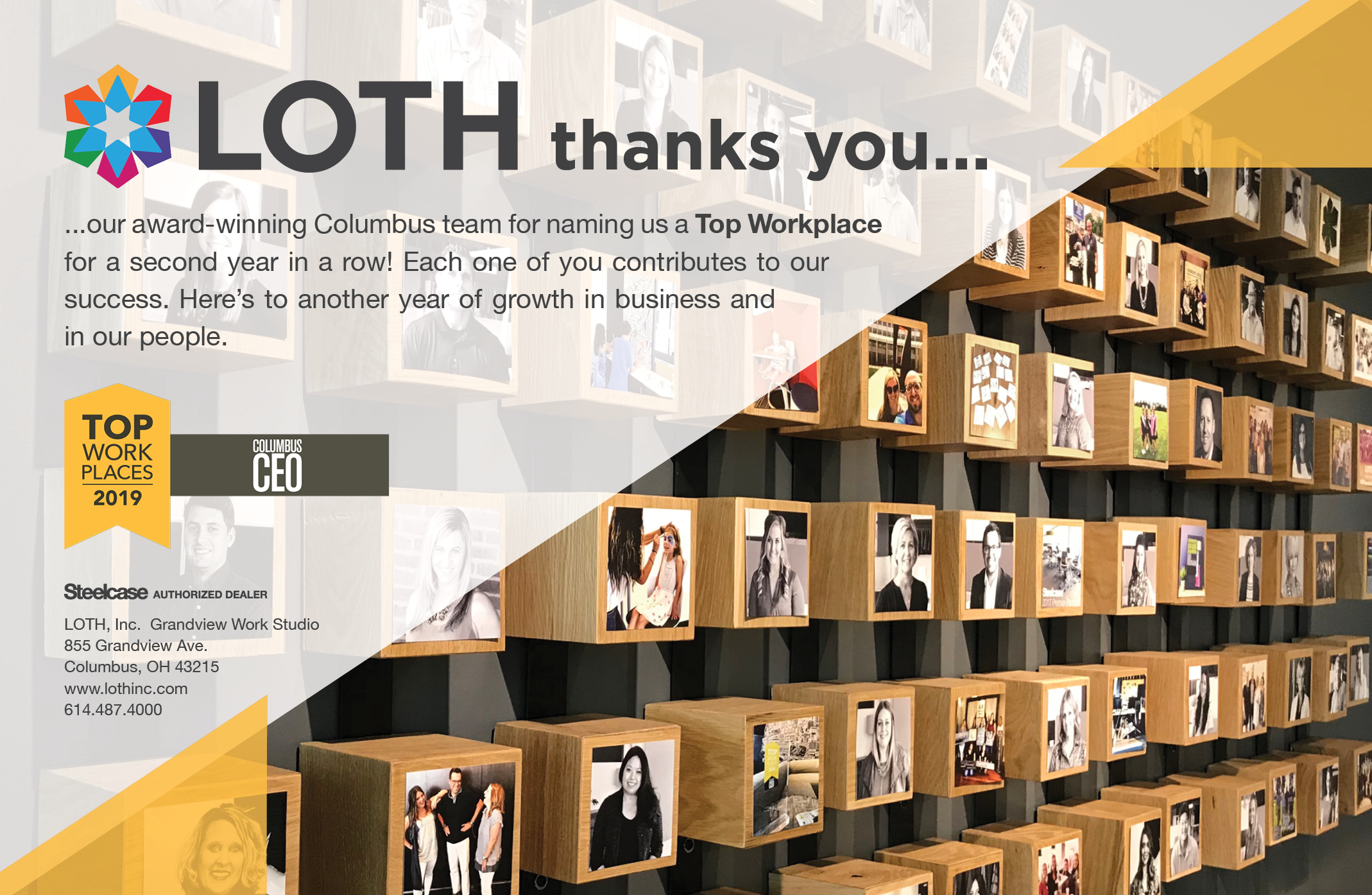 LOTH, Inc. has been awarded a Top Workplaces 2019 honor by Columbus CEO Magazine for a second year in a row. The recipients of the award are based on employee feedback gathered through a third-party survey distributed by Energage, LLC. The survey is anonymous and measures several aspects of workplace culture.
The survey collects data from employees from 24 questions, covering 7 areas and are ranked among companies of similar size.
Alignment: where the company is headed, its values, cooperation.
Connection: employees feel appreciated, their work is meaningful.
Effectiveness: doing things efficiently and well, sharing different viewpoints, encouraging new ideas.
My Manger: cares about concerns, helps employees develop.
Engagement: motivation, retention, and recruiting.
Leadership: confidence in company leaders.
The Basics: pay, benefits, flexibility, training, expectations.
The LOTH team takes pride in the culture it has collectively created. It is a credit to the company's leadership how the employees work well together, stay engaged, and are encouraged to better themselves – personally and professionally. Feeling connected to the work they do and being part of an involved team contribute to their growing success. A visit to the Grandview Work Studio will show examples of the close-knit culture proudly displayed on its employee wall. A variety of photos are showcased, ranging from family visits – both canine and human; community events, like prepping for the Columbus Duck Race or the annual LOTH Bash; and everyday office life – including site visits, the introduction of new products, and team huddles accompanied by cheeseboards and wine.
"Our people are our greatest asset! It is our aspiration to nurture a team that is deeply connected to what we believe, how we behave, and the experience we deliver. We are humbled to receive this award again in 2019."

– Jason Lawler, President of LOTH Columbus
"Top Workplaces is more than just recognition," said Doug Claffey, CEO of Energage. "Our research shows organizations that earn the award attract better talent, experience lower turnover, and are better equipped to deliver bottom-line results. Their leaders prioritize and carefully craft a healthy workplace culture that supports employee engagement."
The mantra at LOTH is to utilize "human-centered design to inspire creativity, learning, and healing." LOTH aspires to be a living example of the work it provides for its customers in that valuing employees is critical in having an effective work environment.
---
Congratulations to our fellow Top Workplace winners!
For Immediate Release
For More information contact:
Kristin DeWitt, Marketing Manager
614.487.4276 | kdewitt@lothinc.com