For many organizations, like LOTH, the pandemic impacted our celebrations and warm welcomes for new team members joining the LOTH family. Let's take a moment to recognize some of the new faces who joined us since late February 2020.
Billy Lykins – Warehouse Associate – Cincinnati AFT
Jared Howard – IT Desktop Support Technician – Shared Services
Amber McCullough – Design Associate – Cincinnati AFT
Lindsay Grote-Huth – Executive Assistant to J.B. Buse – LOTH Holdings
Lindsey Friedmann – Executive Assistant to Keith Weyler – LOTH Holdings
Aaron Collins – Operations Manager – OptiVia Solutions
Max Boulton – Marketing Intern – Shared Services
SHOUT OUT to Seth Eddy, recently named Wexner Medical Center Lead Installer – Columbus AFT
---
Let's not forget about our newest #LOTHbabies we welcomed into the world this spring!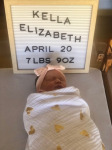 Congrats to the Williams Family (Hannah Schneider-Williams)!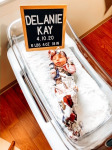 Congrats to the Troiano Family (Haley Troiano)!