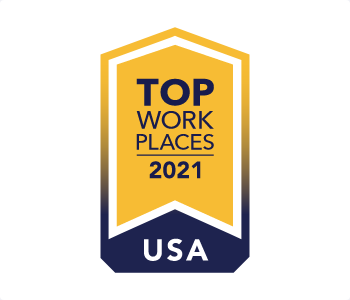 LOTH has been awarded a 2021 Top Workplaces USA honor by Top Workplaces – the nation's most credible employer recognition program. In addition, LOTH is recognized for two additional Culture Excellence awards in the Communication and Innovation categories.
This award celebrates nationally recognized companies that make the world a better place to work together by prioritizing a people-centered culture and giving employees a voice. This anonymous survey process focuses on gathering insight from employees on key measurements of engaged culture factors such as leadership and connection.
So, what makes a "Top Workplace"?
Operate by strong values
Communicate between employees & management
Innovate and operate efficiently
#teamLOTH continues to build on a successful workplace culture amidst the challenges brought by the pandemic.
"Now more than ever, we are required to change and adapt—and our amazing teams are leading the way with innovation and creativity. We are on a mission to truly listen to our teams, help associates find purpose in their work and to share their very best self."

-Kelly Schoembs, VP of Organizational Development + Strategy
LOTH has also been awarded a regional Top Workplaces award by Columbus CEO for the past three years. Stay tuned later this year for those 2021 results!
We are excited to share in this award with countless other companies across the nation who continue to embrace and prioritize workplace culture. Congratulations to all of the 2021 Top Workplaces USA winners!