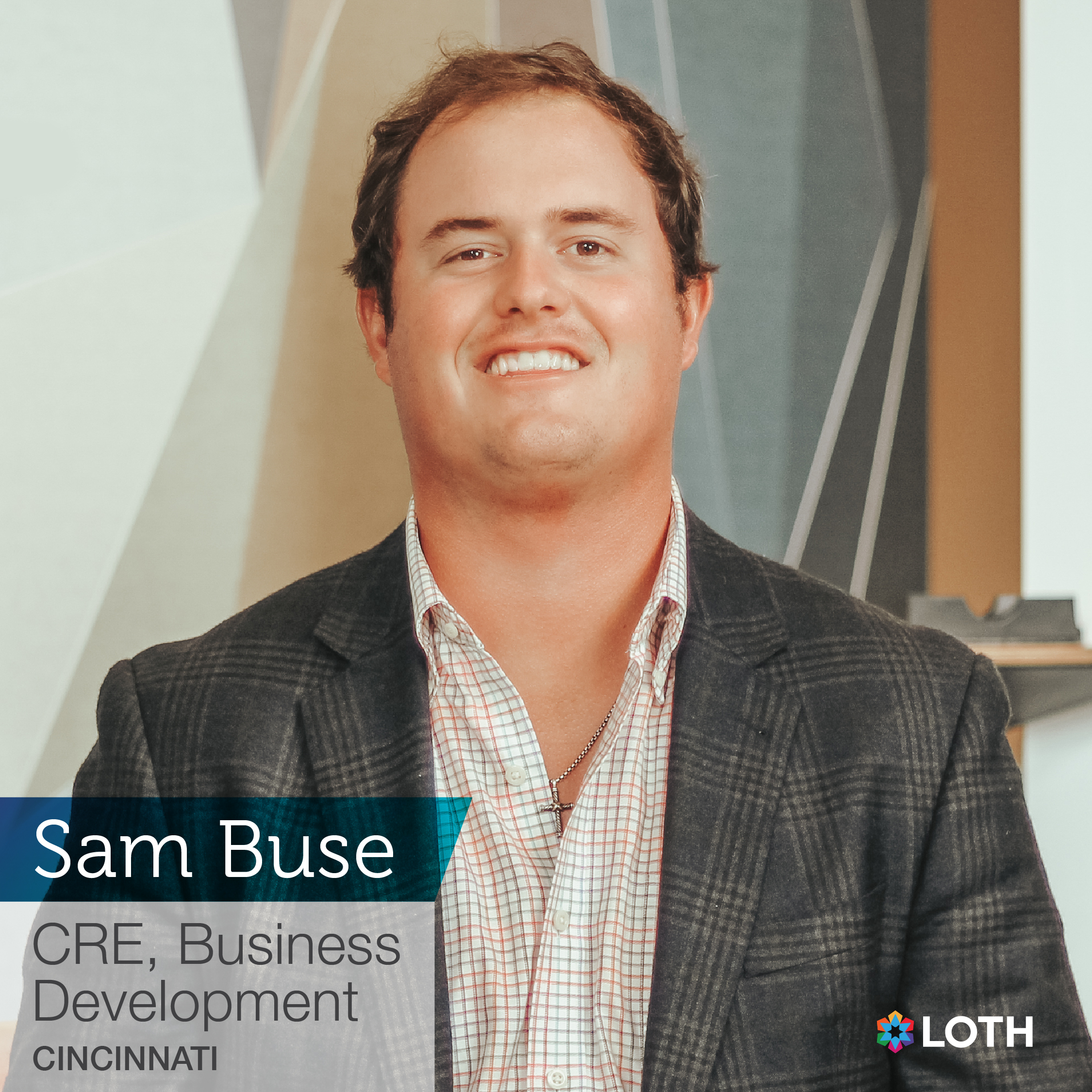 The LOTH family is movin' and shakin'. Sam Buse has moved into the role of Business Development – Real Estate Alliances.  He has been such a valuable part of the LOTH team working alongside the sales team as Operations Analyst. We look forward to seeing Sam continue his success in this new role.
We connected in with Sam to gather some insight for our readers to learn more about him as he expands into his new role in business development here at LOTH.
Q: What excites you the most about your new role on the sales team?
A: Being new to sales, I am really excited to work along the strong sales team we have put together over the years and I find it extremely valuable to have them as resources to learn from as I take on my new role.
Q: What do you find to be the biggest challenge for the commercial real estate industry going into 2021?
A: The biggest challenge going into 2021 is the uncertainty on the future of office space with COVID. Whether it is companies worried about bringing their people back, worried about spending capital on new space, or even companies finding out that their people can work from home efficiently. These are all potential challenges that we will face, but I am confident we will get through COVID together. Although the make up of the office might not be the same as it was pre-COVID, I think for the most part it will be close to normal.
Q: Who has inspired you in your career so far, and why?
A: I would say my parents have inspired me the most to get me to where I am today. My dad for being so entrepreneurial, he bought LOTH 30 years ago at the age of 29 with no experience in the industry and has grown the company into what it is today, which is incredible to me and it drives me to want to continue growing the business for the next 30+ years. My mom's strength has been an inspiration to me, we have gone through a lot as a family but every low point she has been through, she has come out stronger on the other side which is amazing for me to see and learn from.
Q: What do you love most about Cincinnati?
A: I truly love the sports teams in Cincinnati and while it may be odd to hear someone say that because the Reds and Bengals have not won a playoff game in my lifetime, I am however extremely optimistic that it is only a matter of time. I am also a huge Xavier Basketball fan and given the size of the school and other limitations we have compared to many big schools, I feel we have been really successful throughout my life and believe we will win a national championship at some point. It is also really exciting to have FC Cincinnati now in town, the support that our city has given that team shows just how passionate we are as a city for our sports teams and I am really excited for the new stadium to be completed. #ilovesports…can you tell?
Q: Share some fun facts about yourself for our LOTH readers to learn…
A: I took piano lessons for a few months when I was in high school and ended up playing "Piano Man" from start to finish for a crowd of people. Although I don't know how to play many of the songs I could play, I still enjoy killing time on the piano and trying to relearn all the songs I used to know.
I lived in Hilton Head, South Carolina for six months during my senior year of high school while attending a golf academy.
I enjoy playing golf or pickle ball in my free time when the weather is nice, but during the winter I typically spend my free time playing paddle tennis or bowling with friends.