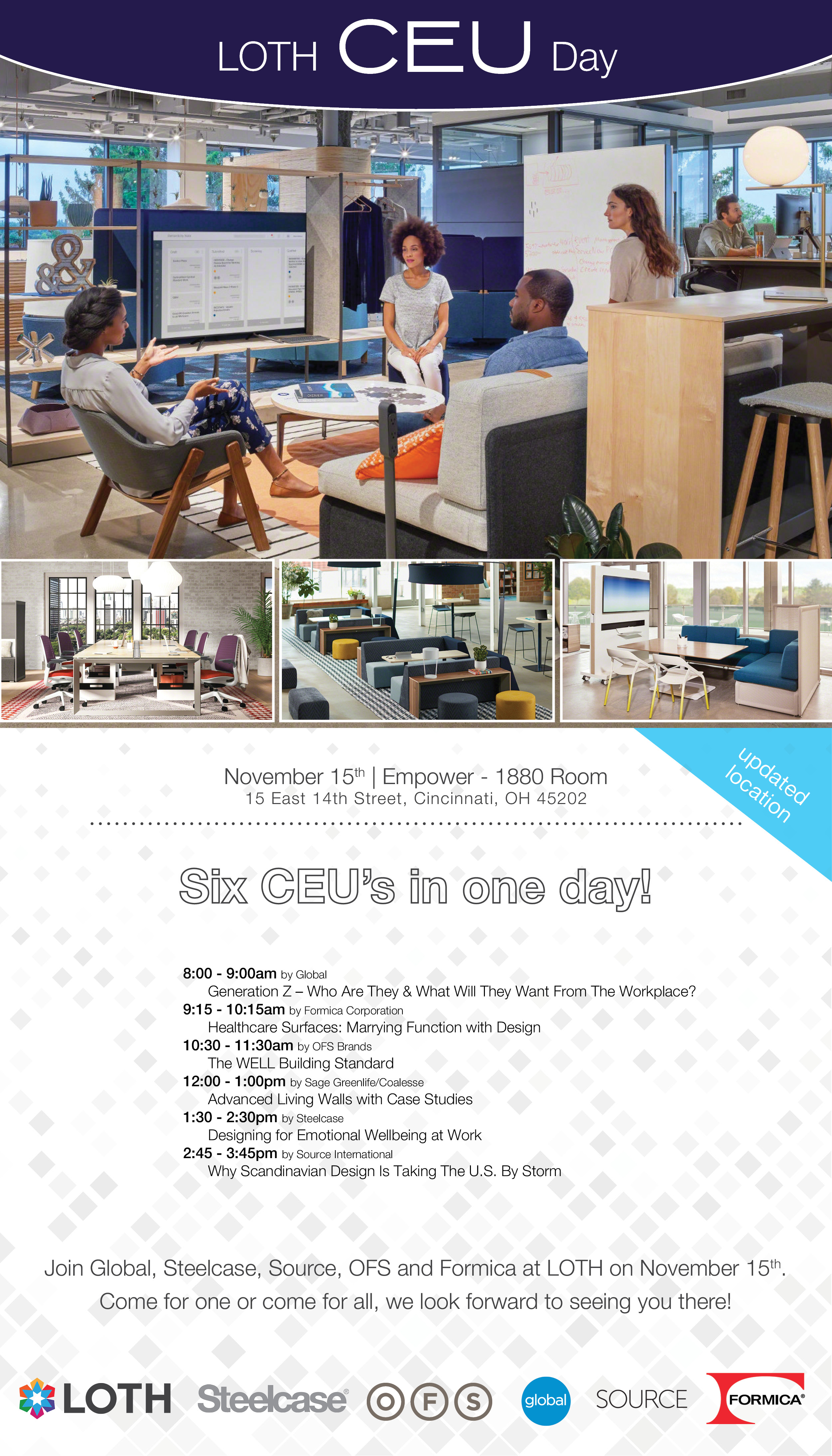 8:00 -9:00am – Generation Z – Who Are They & What Will They Want From The Workplace? by Global
Presenter: Jill Alberico, Training Specialist
Designer Units: 0.1, #108643
Architect Units: 1.0 Self Report
Designation: General
They're coming: Everything you will need to know about the next generation of worker and what they will be looking for from the workplace. Generation Z is slowly entering into the workforce and they are unlike the generation we all seem to be currently focused on, the Millennial. In this course we will learn some of the key attributes of all generations inhabiting the workplace, understand what makes up this new generation and Gen Z is different from the rest. This knowledge will help us all be better prepared to provide spaces to suit their needs as well as the needs of those who came before them.
9:15-10:15am – Healthcare Surfaces: Marrying Function with Design by Formica Corporation
Presenter: Jennifer Horner, Midwest A&D Specialist
Designer Units: 0.1 CEU-108666
Architects Units: 1, FormicaHCSurf
Designation: HSW & General
Examine the challenging environments inside a healthcare facility with attention to the need for durability and cleanability as well as advanced antimicrobial qualities • Discuss the move away from visually sterile healthcare environments toward attractive and comforting design  • List various stations in a healthcare facility and the ideal coordinated surface product specifications for durability, cleanability, harmony, beauty, and microbial resistance • Explain testing, standards, and certifications that ensure hard-surfacing products are safe and appropriate for demanding healthcare settings • Review several case studies that demonstrate various surfaces within healthcare facilities that marry form with function
 10:30-11:30am – The WELL Building Standard by OFS Brands
Presenter: Paul Anderson, Director of Wellbeing
Designer Units: 0.1
Architect Units: 1.0 Self Report
USGBC: 1.0
Designation: HSW
This presentation outlines the create of International WELL Building Institute and the Well Building Standard which is third party certified through collaboration with Green Business Certification. Inc. – the certification body for the LEED Green Building Rating System. Presented are the criteria supporting certification in which 100 performance metrics, design strategies, and policies work harmoniously with LEED which is now a known acronym standing for Leadership in Energy and Environmental Design. You could say that LEED is for the environment and WELL is for people. The framework of this innovative and extremely relevant standard encompasses seven concepts of wellness: Air, Water, Nourishment, Light, Fitness, Comfort, and Mind. It's often a minor tweak, slight adjustment, or just a focus on a specific concept that can make a tremendous difference to employee health and wellbeing which ultimately impacts companies' ROI, attraction and retention and overall success.
12:00-1:00pm – Advanced Living Walls with Case Studies by Sage Greenlife/Coalesse
Presenter: Chad Osborn, Senior Horticulturist & Strategic Partnerships
Designer Units: 0.1
Architects Units: 1
Designation: General
LEED CE Certificate available upon request
This one-hour program enables participants to quantify the environmental contributions of plants to a building interior. Attendees will gain practical insight into the bottom-line and human-centered benefits to designing with interior plants. At the end of the program, participants will comprehend how biophilia's design factor (the human affinity for natural things) profoundly affects the well-being and overall profitability of the modern built environment. Attendees will take with them suggestions on how to use this design consideration towards LEED and WELL certification.
1:30 – 2:30pm – Designing for Emotional Wellbeing at Work by Steelcase
Presented by Katrina Hogan, Steelcase Wellbeing Consultant, Fitwel Ambassador
Designers Units: 0.1
Architects Units: 1 Course Number: SC805
Designation: HSW, General
CAN THE WORKPLACE ACTUALLY BE A PLACE WHERE PEOPLE LEAVE HEALTHIER THAN WHEN THEY ARRIVE? As businesses amp up their focus on wellbeing, many are checking on their progress and looking to other organizations for benchmarking and inspiration. Most organizations understand the importance of physical wellbeing, but don't clearly understand how to create an environment designed for the holistic wellbeing of the people who work there – which, though often overlooked, includes their emotional wellbeing. By looking at wellbeing more holistically, organizations can create workplaces that will provide people with a great employee experience, that enables them to reach their full potential.
Today, many employers are rethinking how to address wellbeing by taking a more proactive, human-centered approach. A synthesis of research by Steelcase researchers has identified six dimensions of emotional wellbeing that can be impacted by the built environment. Emotions shape people's behaviors and determine their ability to be creative, innovative and strong contributors—and those are critical levers for employee satisfaction and engagement. In contrast to emotional wellbeing, too much stress leads to negative emotions that put people on guard, conditioned for a "fight or flight" response, which leads to disengagement and ultimately tires the body and mind. This course will explore the rising importance of emotional wellbeing and demonstrate that by creating a workplace that addresses the emotional wellbeing of people, architects and designers will be able to help organizations increase employee engagement and drive business performance. The course also shares thought starters and design principles that can be used by architects and designers to create environments where people will thrive.
2:45 – 3:45pm – Why Scandinavian Design Is Taking The U.S. By Storm by Source International
Presenter: Bethany Parks, National Sales Manager
Designers Units: 0.1
Architects Units: Self Report
Designation: General
Scandinavian design has captured the hearts and minds of the U.S. market. From architects and designers to college students, the rich heritage, iconic midcentury appeal, and residential influence of players like Ikea have made a major impact on interiors today. This CEU will educate you on the history of Scandinavian design, explore the design philosophy and aesthetic details that make it so sought after in the U.S. today.  We'll examine key trends in color, material, and finishes and see how Scandinavian design practices will continue to inspire trends in products and interiors in the years to come.