Vice President of Corporate Business Development, LOTH Holdings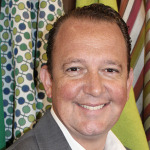 Brad Blettner serves as the Vice President of Corporate Business Development for LOTH Holdings. His focus is helping identify, develop and implement strategies, evaluate and develop business models to support Emerge Workplace Technologies, Strategic Workplace Solutions, OptiVia Banking and OptiVia Logistics, as well as lead enterprise marketing and branding efforts for the holding company. Brad joined LOTH in July of 2016 as EVP, Sales for Cincinnati AFT with more than 15 plus years of sales, marketing and business development leadership.
Prior to joining LOTH Brad most recently served as the Vice President of Sales and Marketing for Delta Private Jets. Additionally, Brad was responsible for leading sales and business development with the Cincinnati Reds for more than 13 years. He is an alumni of Leadership Cincinnati and has held several key positions on boards and committees including Downtown Cincinnati Inc., Northern Kentucky Chamber of Commerce and Leadership Cincinnati.
A resident of Park Hills, Brad graduated from the University of Kentucky with a BA in Marketing and Management and holds an MS in Sports Administration from St. Thomas University.