Human Resource Director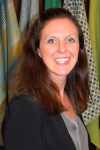 Kelly Schoembs joined LOTH in May 2018 as Human Resources Director.  Schoembs joins LOTH with nearly 20 years of experience in the field of Human Resources.  Having spent the majority of her career with MetLife, Schoembs has gained expertise across all disciplines of Human Resources.  Schoembs says she has a particular passion for growing and developing talent for the future.  Prior to joining LOTH, she led a Global Leadership Development program and led a national talent management practice as well as large scale organizational development initiatives.
Schoembs graduated from Miami University with a bachelor's degree in Human Resources and Organizational Behavior.  She and her family moved to Cincinnati from Seattle, WA in 2017.  She and her family love being back in the Midwest, where they take advantage of all four seasons and keep very active with a wide range of sports and activities including swimming, soccer, basketball, football, golf, cheer and gymnastics.
She currently resides in Milford, Ohio with her family.
SaveSave
SaveSave
SaveSave
SaveSave