 Join us as we take a look at a real-life example of "Changing the Education Environment" with our… Steelcase Education researchers explored evolving definitions of student success, along with innovative strategies and new metrics.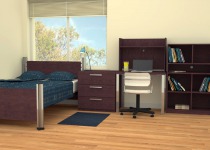 Join us for happy hour at the RT London Mockup in the LOTH Columbus Showroom! The event begins August 2 from 4-6pm and additional viewings can be scheduled through 4pm on August 4. RT London is an educational furniture company bringing a resident hall bedroom mockup to our space along with some of their lounge options. Contact Samantha Ullum at sullum@lothinc.com for more information.