LOTH + Steelcase invite you to join us for an exclusive event featuring a conversation around the intersection of technology + work – along with a live demo of our new Flex product line.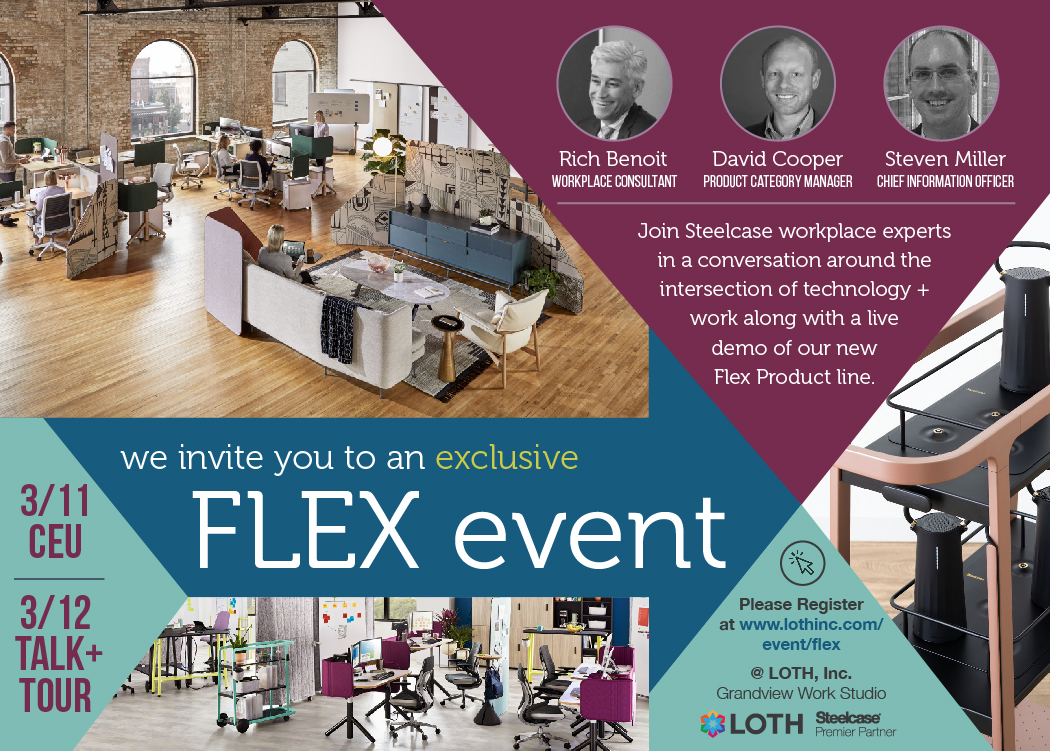 Agile CEU, Lunch + Tour
March 11th | 11:00 am – 1:00 pm
Space can positively impact teams, inspiring more engagement and collaboration. The key is creating a balanced ecosystem that supports individual and group work. Steelcase Workplace Consultant, Rich Benoit, joins us to host a CEU on Agile Principles.
Agenda:
11:00 – 11:30 am  |  Networking + Lunch
11:30 – 12:30 pm  |  Rich Benoit + Steven Miller present Agile CEU
12:30 – 01:00 pm  |  David Cooper gives product experience of Flex
CEU Course Description:
How do you design a workspace to accelerate agile work? Agile is on everyone's mind: According to a 2018 Forbes article, 90% of senior executives give high priority to becoming agile. But according to that same article, less than 10% have successfully implemented agile. One reason is because companies focus their efforts on process and culture, without considering the workspace. Steelcase has learned firsthand that the work environment can either accelerate or slow down agile work. Changing the environment is a powerful way to encourage shifts in behavior, and the right space effectively supports the team's work. Learn about Steelcase's agile journey and research, and how we've taken our learnings and developed insights into designing spaces to amplify agile teams and how they work.
AIA Course Number           SC0808
AIA Expiration Date            February 20, 2022
AIA LU Credits                    1.0
AIA LU Designation             1.0 LU
IDCEC Expiration Date        March 31, 2021
IDCEC CEU Credits             0.1
IDCEC CEU Designation     General
---
Workplace + Culture Discussion with Breakfast
March 12th | 7:30 am – 10:00 am
Steven Miller of Steelcase, discusses how their IT organization changed its relationship with its business in order to enable digital transformation and improve performance. Steelcase Workplace Consultant, Rich Benoit, joins in to host a conversation on the evolution of culture based on agile principles.
Agenda:
07:30 – 08:00 am  |  Networking + Breakfast
08:00 – 09:15 am  |  Rich Benoit + Steven Miller present
09:30 – 10:00 am  |  David Cooper gives product experience of Flex
---
We are offering 2 days of events to cater to the interests of our partners and clients. Please select which day you'd like to join us – you're welcome to join us both days as well!
Steelcase recently featured our LOTH Cincinnati team in a case study project for the Flex product line, as we were the first dealer in the world to sell it! We've used Flex as a solution in a number of projects recently. Flex helps to create dynamic team neighborhoods that are designed for spontaneity. It empowers teams to reconfigure their space on demand, making it easy to shift from a brainstorm to a workshop, or from a daily stand-up to a sprint review.
About Our Speakers:
Rich Benoit, Steelcase Workplace Consultant
Richard Benoit is a Consultant with over 20 years of experience engaging with organizations from various sectors to assist in their transition to a more resilient workplace. He uses his expertise leveraging research and insights to help clients create highly effective workplaces that align with their culture and business strategies. Currently based in Grand Rapids, Michigan, Richard applies the elements of design thinking in his engagements to inform the creation of a responsive and purposeful workplace. Richard is Prosci Certified in Change Management and holds a Bachelor's degree in Architectural Engineering from the University of Colorado.
Steven Miller, Steelcase Chief Information Officer
Steven D. Miller is the Corporate Information Officer for Steelcase Inc., where he has spent the last 20 years at the intersection of technology + work. Steve has spoken at prestigious institutions such MIT and Stanford regarding the digital augmentation of work. Most recently, Steve has been focused on how Agile development practices and the digital transformation of businesses is impacting the culture, practices, and environmental needs of people at work.
David Cooper, Steelcase Product Category Manager
David Cooper is Product Category Manager for Team and Collaborative Spaces at Steelcase. He has over 14 years of experience in global new product development and has launched more than a dozen new product ranges.  David's approach to innovation is to use insight-driven design strategies to translate research into solutions that support the productivity and wellbeing of individuals and teams. David recently led the development and launch of the Steelcase Flex Collection, designed to empower team spaces by creating spaces that adapt on demand.