Returning to school or campus will challenge every institution to rethink their capabilities for providing blended in-person and remote learning experiences to help create a safer environment for students, educators and administrators. It will require thoughtful planning and deliberate reflection about resources, technology and, most importantly, desired outcomes.
Our Creative Lead, Kyla Burns, reaches out to our internal Education Consultants, Christy Hall Thompson  and John Van Cleave about how they've been working with our customers in this market during this challenging time as the return to school nears.
Kyla: Can you share your role with LOTH, and your area of focus?
CHT: Workplace Consultant, Education Market
JVC: Account Executive with a focus on New Business Development within both corporate and K-12 education spaces.

Kyla: How are you looking at "living with COVID" design for education?
Christy: Each day is a new day but planning for Education is mostly like every other environment we are currently working through and it's designing for what the future might need and how the "quick" solutions will assist with providing space changes to work around existing furniture.  Most of my clients are still working through the mindset, "this too shall pass" and are not limiting designing a new space with decreasing capacity all around.
John: Looking back at my school years and seeing how much has changed over the last 15+ years, it's clear that re-designing spaces within a school or education space for living with COVID is not a simple feat. The first thing that comes to mind is that kids don't sit still or always follow the rules. There are tons of things that can be done with regard to the design of a space that are so much more than furniture. Whether it's integrating cleaning storage/supplies into the classroom, making hand sanitizer accessible, or providing signage/guidance for social distancing or flow of a hallway.
Kyla: What strategies have you taken with your clients to start the discussion around planning for education during a pandemic?
Christy: Working with the internal LOTH team to provide an educational packet of space changes and partition screen solutions to help map out the use of their space with thought starters.  The pandemic and the future of how classes will be structured going into the Fall semester is very unknown with possible virtual learning versus classroom environments that need to be modified to accommodate the 6' distance. Keeping clients informed with updated information, truly "educating" them, as our partnerships assist in providing day to day updates for what's available in the market and what research is showing.
John: There are a lot of great thought starters to consider when looking at redesigning a learning space to live with COVID. Laying out a classroom to see what it looks like with social distancing (6ft or 3ft) guidelines makes a huge visual impact to see that it may not be as simple as spreading desks out or having every other seat occupied. As we prepare to return to the classroom this fall, things like deep cleaning, storage of un-used furniture, and technology improvements are all things that in a traditional education space are typically afterthoughts or forgotten about completely.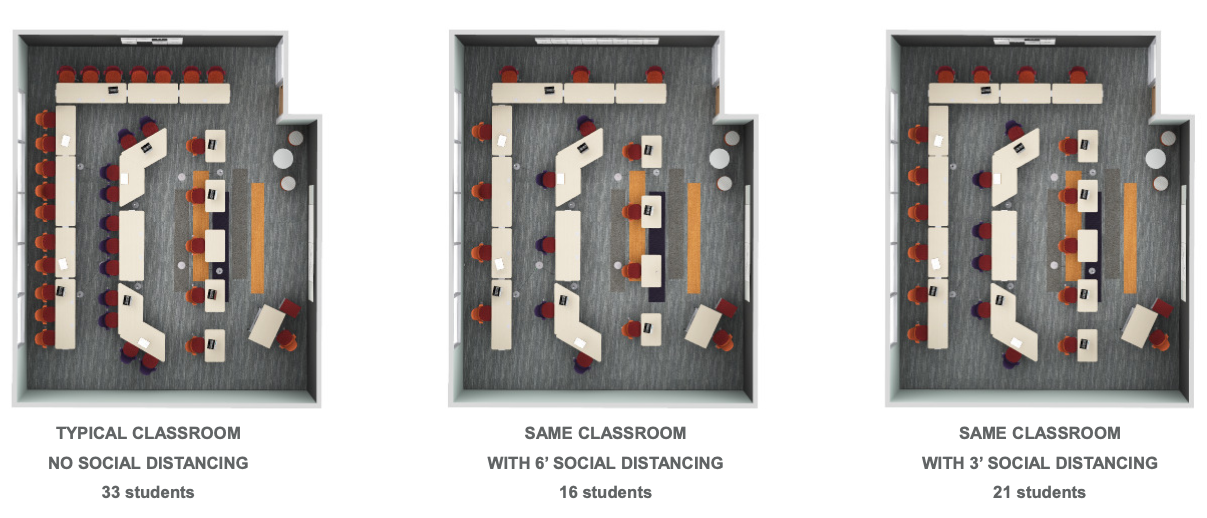 Kyla: What are your number one goals when consulting Educational decision makers?
Christy: Helping to develop collaborative environments within the building to assist with space changes that can arise from mixed use with multiple people to a decreased number efficiently and productively.
John: Helping to maintain a safe space for the students to learn when in person this fall. Hearing what pains or challenges they are having with their return to school plan and providing resources we have to give guidance or suggestions on how to return to school safely. We may not have an immediate solution, but to learn along the way with these school districts and admin staff will better prepare us to help other school districts and educators going forward.
Kyla: What advice would you give to anyone tackling returning to education this fall?
Christy: Be Patient and strive to keep the students needs at the front of conversations as they face uncertainties no matter what age they are at.
John: This year and years going forward will not be the same, – it's okay to not have perfected the plan day 1 when students return this fall. Consistent changes and analysis of how their plan is working will result in a refined plan throughout the school year. As we've learned over the past few months, we don't know what we don't know, and as we get back to learning in the classroom, new challenges will arise and we're here to plan and help educators with their plans outside of their furniture.