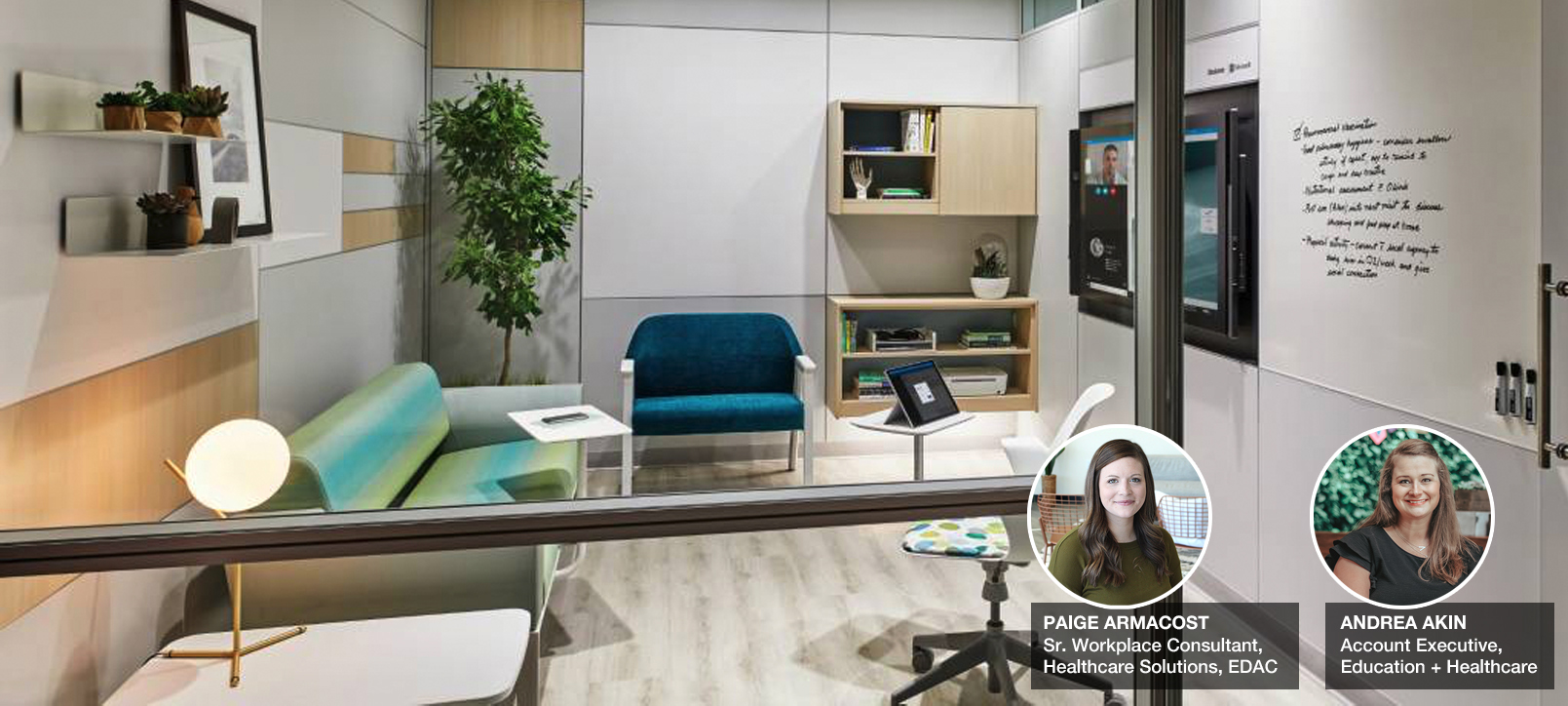 Our Creative Lead, Kyla Burns, reaches out to our internal Healthcare Consultants, Paige Armacost  and Andrea Akin about how they've been working with our customers in this market during this challenging time.
Kyla: Can you share your role with LOTH, and your area of focus?
Paige: As a Senior Workplace Consultant, Healthcare Solutions, I am the liaison between the client and LOTH ensuring there is a seamless experience throughout the project process. By working closely with all parties, I am able to deliver a successful project on time, and exceed customer expectations.
My most important contribution would be the knowledge I bring from a Healthcare facilities perspective, and certification for Evidence-based design. I have a diverse portfolio ranging from inpatient and ambulatory settings to administrative spaces allowing me to bring valuable insights to the project's approach.
Andrea: My role is at LOTH is account manager with a focus on large Healthcare and Higher Education clients in Cincinnati's market.  I specifically look to amplify the environments where people learn, heal, and work.  We strive to help change the norm to accommodate emerging technologies and trends while also helping to create and maintain standards for a facilities plan.
Kyla: What strategies have you and your clients taken while space planning in a pandemic?
Paige: Strategies my clients and I have taken while space planning in a pandemic include, most importantly, to keep providers, patients and visitors safe. We are showcasing present and future solutions, that iterate ways all types of spaces can evolve to accommodate the demand. Enabling the providers and staff to have choice and control over how they use the space aids in their mental wellbeing and feeling safe in their environment. Visual social distancing cues, along with easy access to sanitizer and masks allows patients/families to navigate the facilities with more piece of mind, as they are also seeing the spaces cleaned regularly in front of them. Flexibility has been a huge factor, as planning for future projects has put an emphasis on making sure spaces have the ability to serve many different functions, along with retrofits to existing spaces to accommodate the needs of today's pandemic.
Andrea: During the pandemic we looked closely at social distancing and the challenge for both the patient and the provider.  We have been involved with adding screens in welcome areas, providing a safe place for pre-entry screening to take place, and reducing the density in the public areas.
Healthcare facilities have always made cleaning a priority, and that has now only increased.  The largest change for them is reducing the number of overall people entering a facility on a regular basis.  Guests of the patient are really only allowed in scenarios where the patient needs physical help to get to the appointment or if the patient needs someone help make decisions for them.  This has decreased the number of visitors in the hospital and aided in the social distancing in public spaces.
Many clients have created specific traffic flow patterns with stickers on the floor or furniture to identify the new wayfinding patterns.
Kyla: How has Telemedicine changed the way Healthcare clients are making decisions?
Paige: Telemedicine has changed the way Healthcare clients are making decisions, as this has really helped to start break down some barriers and drive access to patients who may not have had treatment available before. This method of care is reducing cost, and promoting faster resolutions to health conditions. This has been a challenge for providers, as they have had to quickly adapt from a technology standpoint, but also from a facilities standpoint as it relates to space. I do not see this trend going away post Covid, and believe it will become a standard of care moving forward.
Andrea: Having a place where doctors can effectively provide care for someone virtually was something many people had to quickly pivot too.  Some doctors share offices, they may not have all the right programs on their devices, or are just prefer to see people face to face.
We have worked with one of our local  hospital networks to create a pod – think phone booth – that the doctors will use for telehealth visits.  We worked with them to develop a mock up to understand how the building's infrastructure would connect to the pod, how will the technology be mounted in the space to be attentive to lighting, equipment needed, and speech privacy, and how will we integrate these into the collaborative providers spaces.  These 12 pods will be the first telehealth pods for this network and we are looking forward to how they are used when the facility opens for patients later in 2020.  Originally planned for doctor dictation – we were able to quickly make pods dedicated to telehealth.
Kyla: What is your number one goal when consulting Healthcare decision makers?
Paige: On behalf of the LOTH Columbus Healthcare team, my number one goal when consulting Healthcare decision makers is to ensure them that we know healthcare environments must continue to adapt, while promoting the health and safety of all individuals. We value being a resource for research and insights to help them navigate through the changes occurring today, and those to come. Key issues related to flexibility, cleanability, and durability are at the top of mind in each of our solutions. We are here to help you navigate through the trials of the pandemic, and set you up for success on the other side.
Andrea: Our number one goal is cleanability and durability.  Now more than ever we are cleaning every surface many more times per day.  We want to eliminate the places where germs can hide or that can be difficult to clean.  We want to focus on fabrics and the necessary procedures needed to clean the fabrics and not impede on the lifespan of the furniture.
We are also very focused on keeping the staff and providers within the network safe.  We have worked closely with our local contacts to make sure that we are maximizing every dollar, our hospitals were fiscally injured during the essential shutdown and it's our job to make sure that we help prioritize their projects.  Whether we reduce total number of seats in a lobby or reuse product from one location to another.  We are here to be their partner and help them through this challenging 2020.